Troubleshooting Gas Compression
Expert process and separation analysis applying MySep in conjunction with process simulation (such as Aspen HYSYS® or UniSim® Design) solved separation mal-performance issues that were underlying loss of gas production in both trains of a two-stage offshore compression system.  Kranji Solutions brought their unique skill set to bear, identifying the root cause of compressor efficiency decline and recommending an optimal cost-effective remedy for the separator system.
Business Problem
Offshore oil & gas production system. Compressor polytropic efficiency and head dropping with time.  Reduced gas mass throughput in the export pipeline and also some reduction in oil production. The facility operating revenue was reduced by equivalent to some $60MM per annum.
Analysis
Kranji solutions experts review real time historian data. Link MySep software to client Aspen HYSYS® process model containing:
1st stage separator
LP suction scrubber
HP suction scrubber
2 compression stages
Intercooling
Detailed carry-over analysis of each separator also revealed likelihood of emulsion in HP suction scrubber.
Solution
Kranji proposed improved demisting capacity in the 1st stage separator and introduction of a cyclonic demister, in combination with an appropriate design of mesh agglomerator for the suction scrubbers.  This could deal with the high viscosity liquid resulting from emulsification of the heavy crude produced in the facility.
Summary
Kranji Solutions provided rapid analysis of the root cause through modelling performance of the system of separators with MySep software coupled with process simulation. Excessive carry-over resulted in fouling of compressor blades which progressively reduced the polytropic efficiency. This reduced gas production and hence resulted in loss of operational revenue.
The Kranji team recommended retrofit internals for the 1st Stage Separator, and both LP and HP suction scrubbers. These eliminated damaging carry-over of hydrocarbons and produced water. The remedial measures could restore consistent performance with a project payback time of less than two months.
Cost benefit analysis
For a 120 MMSCFD capacity facility producing natural gas and oil: 
Daily lost production of 32 MMSCF (assuming minimal impact on oil production)
Cost of lost production $60MM per year
Cost of new internals to remediate each train: $750k
Facility shutdown and recommissioning cost: $6.8MM
Total cost of remediation: $7.5MM
Project payback time 47 days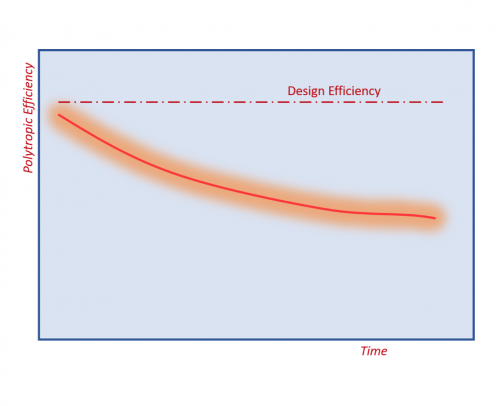 Interested?
Are you looking for troubleshooting, root cause analysis, debottlenecking or capacity increase of your equipment?